Snorek Sleep App is an Android App that detects and warns you when you are snoring. SnoreWare extends the possibilities of SleepApp by leting you upload your results to the Cloud and analyse them afterwards or remotely.
In this Video you will see and listen a snoring man. The Smarphone detects the sound of snoring and warns you either with a vibration of the smartphone or of that of a SmartWatch. At the same time, the SmartWatch records the movements of the user creating a night-movements profile and allows to identify the sleep position of the user. The Goal behind it is not "teach" the user to not sleep in those position where he is more often snoring, thus avoiding possible breath illnesses related to snoring as well as not disturbing the partner.
Sleep App comes in two flavours. The free version detects snoring but won't warn you. It is aimed to a first screening and you can check how often and when you snored. The paid version works with the smartWatch as described above.
The professional version detects sounds resembling sleep apneas, compares your snoring sounds with those of passt nights stored in the cloud and avoids by warning you, those that most likely produced a sleep apnea.
Watch the Video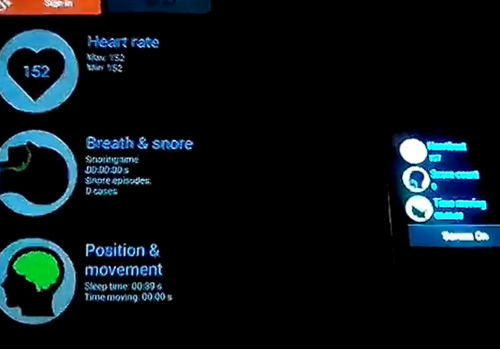 Sleep Apneas are pauses in breath while sleeping affecting over 5% of the population worldwide with many more cases remaining untreated and without diagnostics. Costs for the insurance and for the users health are very high. SnoreWare will work with off the shelf wearables, offering more relevant physiological information to the user and eventually leading to consult a specialised sleep medicine physician to medically detect and treat potential sleep illnesses For Technical Support or Purchase enquires please contact us at This email address is being protected from spambots. You need JavaScript enabled to view it. . Marc Farssac is the entreprenour behing this project that was supported by Google with $20.000 and technical support.
Visit us at http://www.snoreware.com
SleepApp and SnoreWare are not certified medical products